According to the National Family Health Survey (2005-06), over 79.2% of the children in India under age 3 are anemic. The sad thing is that the condition has only improved slightly in the past 2 decades.
To make our readers aware about the current state of malnutrition and child health in India, we are here with recent stats and data on the condition that affects millions of children.
Malnutrition in India: Data and Status 2021
38% of children below 5 years are stunted. In this number, the share of urban areas is 31%. The rural India on the other hand makes 41% share.
21% are wasted (low weight for height). This is a major indicator of malnutrition.
25% women above 14 and below 40 years in India are undernourished.
36% are underweight (low weight for age). From this, 29% live in urban areas while 38% live in rural areas.
As per recent national survey, 7.5% of Indian children are suffering from severe acute malnutrition.
As per Sample Registration System 2016 Report, over 9.6 lakh children who are less than 5 years of age die annually due to conditions triggered by malnutrition.
4 states namely UP, Bihar, MP and Rajasthan contribute over 55% of all child deaths in India.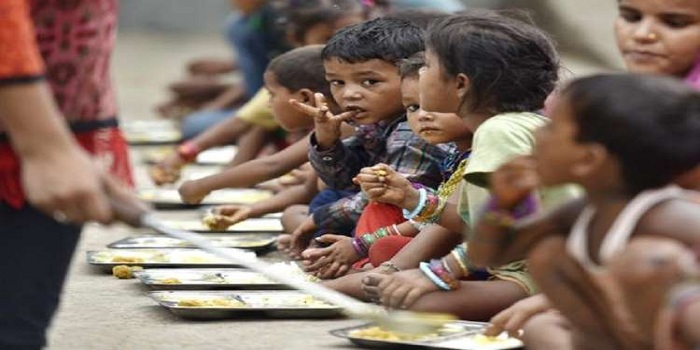 About 46% of under-5 deaths take place within the first 7 days of birth. 62% within the first 1 month of birth.
Children are not the only ones who are impacted by malnutrition. 23% of women and 20% of men are considered undernourished in India.
High prevalence of anaemia is rural areas is linked to poor diet, bad hygienic conditions and limited access to iron supplementation.
According to UNICEF, malnutrition caused 69% of child deaths below the age of 5 in India.
Check out these human rights NGOs in India saving the day. everyday
Malnutrition in India: Commentary
It is essential to give a child good nutrition in the first 5 years for their better development. Lack of good nutrition can cause them various diseases throughout their lifespan.
Malnutrition means deficiencies, imbalance or over-access in the intake of proteins and necessary nutritions. Poor nutrition leads to stunting, wasting, underweight and micronutrient deficiencies, obesity and diet-related non-communicable diseases such as heart diseases, stroke, diabetes and cancer.
Midday Meal Scheme was started by the GOI to give the children of poor families a balanced diet, improve student turnout, and fight hunger.
Above are the latest stats, findings and data of malnutrition in India. Spread awareness about malnutrition by sharing the stats on your favorite social media channel or support NGOs working to eradicate hunger and malnutrition in India!
NGOs fighting malnutrition and hunger
Below are some NGOs that are working hard for underprivileged children and spreading awareness about the condition:
Nanhi Jaan, Chandigarh
Nanhi Jaan, Chandigarh was launched by Veeranwali Foundation to help the unprivileged children and families. Their vision is to provide education and good health to every child. Support this Chandigarh based NGO through funds and volunteer work.
Address: SCO 343-345, Sector 34-A, Chandigarh
Contact No: 8558050000
Leher, New Delhi
Leher NGO, Delhi was founded in 2013 to prevent children from being abused and exploited. This Delhi based NGO has worked very hard in the last 5 years to help the children of daily wage earners and families living in slums. Support Leher NGO to improve the lives of thousands of children across Delhi and the rest of India.
Address: New Delhi, India
Contact details: contact@leher.org
Debabrata Auro Foundation, Mumbai
Debabrata Auro Foundation was founded by Dr. Aparna Govil Bhasker & Dr. Debraj Shome in 2016 with a vision to provide good education, basic health care, and socio-economic development for women, children, and other needy individuals. Learn more about Debabrata Auro Foundation in Mumbai
Address: Thakur complex, Kandivali East, Mumbai
Contact No: 9930922314
Support these NGOs to help the underprivileged children who are suffering from malnutrition by supporting nonprofit organizations working for them.
Are you aware of any other malnutrition related stats or data that's missing in this blog? Drop it in the comments section to help us expand this list. If you run an NGO, get in touch with Helplocal to list it on our website.